SPECIAL OFFER: GET IT FREE or UPGRADE for $10
Please fill in the form below to add a Basic listing to Bullion.Directory.
Regular Price $10 – Anniversary Special is FREE!
Still want to pay $10? Get an UPGRADE!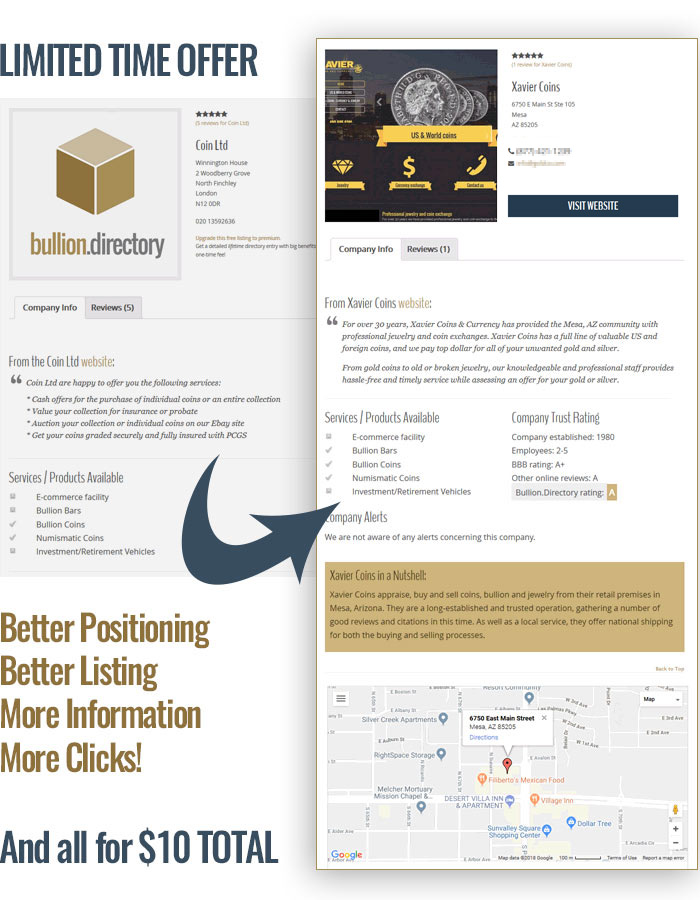 Upgrade Your Basic Listing for only $10
To take advantage of our $10 Listings Upgrade offer, simply tick the box on the listing form and we'll:
prioritize adding your listing – adding you within 1 working day,
list your company higher up category pages than with basic listings,
add a screenshot for a more eye-catching listing,
add more company information for better search results
Fill the form to get started with your LIFETIME upgrade!
IMPORTANT
We will only add listings for bona fide precious metals dealers – that is companies actively buying and selling their own stocks of finished bullion and coins, or refining/minting precious metals into finished products for the bullion market. Requesting a listing does not guarantee we will add your listing.

We do not list affiliates, news sites, gold coupons sites and gold price aggregators, nor sellers, resellers, importers, exporters or dealers in gold dust, alluvial gold or blood gold/conflict gold.
Please contact us if you have any technical issues with this form.

*Free listings may take 3-5 working days at peak times. $10 upgrades get listed within 1 working day.